MONSTER JAM
Monster Jam brings adrenaline-charged family entertainment to fans across the country. These world-class Monster Jam vehicles and athletes deliver what fans want to see most, more trucks, more racing, more freestyle, more donuts, more wheelies, more action.

PORTLAND SATURDAY MARKET
Combining the vibes of an art show, a live street concert and an open-air bazaar, Portland Saturday Market has been a beloved Rose City tradition since 1974

FIRST FRIDAY AT THE 4TH WALL
Local artist showcase. Art for the masses, by the masses. The 4th Wall PDX is a cinema-themed cafe and lounge serving up Sister's coffee, regional beer, wine and cider, fresh breakfast sandwiches, and more!

GLOW SKATE NIGHTS
Get out of the house and enjoy a fun evening activity at Oaks Park Roller Rink's Glow Skate Nights! Oaks Amusement Park in Portland has been bringing joy to the young and young at heart since 1905. For just $10, you can enjoy the skating rink during open skate sessions!

THE SATURDAY SLASHER!
Portland's 4th Wall is playing spooky movies all evening long at their Saturday Slasher event! Enjoy beer, pizza, and movies!

WASHINGTON STATE HORSE EXPO
The annual Washington State Horse Expo is back at the Clark County Event Center at the Fairgrounds! Every year the Horse Expo features national experts, amazing first-class entertainment, vendors, plenty of shopping, and more. It's the horse enthusiast's event of the year!

FIRST FRIDAY DOWNTOWN VANCOUVER
Every first Friday of the month throughout the year, participating merchants and restaurants stay open late with special programming, live music, and pop-ups. Also, downtown Vancouver art galleries lead the First Friday Art Walk featuring rotating exhibits from local artists.

GRAND OPENING POP LOCAL VANCOUVER
Pop Local will be kicking off the day with a ribbon-cutting ceremony followed by local food & drink tastings offered in-store by some of their very own featured local brands. Plus, fun giveaways, live music, and an after-party to celebrate with our local community!

MUNSON CREEK FALLS
Munson Creek Falls State Park contains Munson Creek Falls, which is the tallest waterfall in Oregon's Coast Range. A short hike of 0.5 miles leads to views of the 319 feet waterfall! The trail is accessible for all ages and every level of hiking enthusiast.

THE NEHALEM ESTUARY CLEANUP
The Nehalem Estuary Cleanup happens just once every two years, so don't miss out this Saturday for the opportunity to spend a day making a lasting difference in the beauty, safety, and habitat quality of the bay and estuary!

WINERY COMEDY TOUR AT CHATEAU BIANCA
This nationwide tour has already hit 1,500 venues across the U.S. Treat yourself with laughter when this tour comes to Chateau Bianca Winery this weekend!

MAD SCIENCE
Head to the Sunriver Nature Center to unleash your inner Mad Scientist while your family experiments with colorful, fun, and messy chemistry!

CENTRAL OREGON WINTER BREWFEST
Don't miss this celebration of Oregon craft beer and the Central Oregon Community at the Winter Brewfest! Beer, cider, fire pits, and live music. Click here for a list of participating breweries and beers.

FIRST FRIDAY ART WALK
First Friday Art Walk in the Old Mill District is a wonderful opportunity to chat with artists and makers, to learn about their creative process. Enjoy not only art from around Central Oregon, but different white, red, and bubbly wine samples from Va Piano Vineyards and Evoke Winery.
POPULAR ON NETFLIX/HULU/PRIME/DISNEY+
RESTLESS
After going to extremes to cover up an accident, a corrupt cop's life spirals out of control when he starts receiving threats from a mysterious witness. (Netflix)
AMERICA'S GOT TALENT: EXTREME
The most outrageous acts of enormous scale and magnitude go head-to-head in the most wild, intense, and often times beautiful performances to vie for a $500,000 prize and the ultimate title: the champion of America's Got Talent: Extreme. (Hulu)

WEST SIDE STORY
Directed by Academy Award winner Steven Spielberg, from a screenplay by Pulitzer Prize and Tony Award winner Tony Kushner, West Side Story tells the classic tale of fierce rivalries and young love in 1957 New York City. (Disney+)
Portland Real Estate Market Update
January 2022

The above graphic illustrates the state of the Portland area market as of January

• The average sold price was $586,600, a increase from the previous year ($514,700).
• No. of closed sales was 1,853, a increase from the previous year (1,847).
• Active inventory was 1,412, a decrease from the previous year (1,922).
• Months of inventory equaled 0.8, a decrease from the previous year (1.0).
• The no. of days for total market time was 38, a decrease from the previous year (44).

Lender Perspectives
by Mark Snow, Guild Mortgage

A Look Into the Markets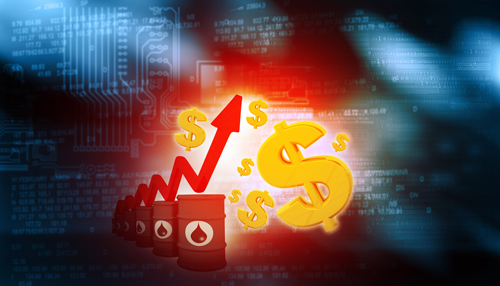 Interest rates retreated from 2019 peaks as the Ukraine invasion by Russia escalates and grows more uncertain. However, there were other big developments here at home that erased a good portion of the rate improvement. Let's break down what happened and what to look for in the week ahead.
"I hope the Russians love their children too" – Russians by Sting

1) Ukraine Invasion Market Reaction

The Ukraine/Russian war has escalated, and the outcome remains highly uncertain. No one knows if, when, and how this will end. When the world experiences tense geopolitical moments, it drives what is called a "safe-haven" trade into the relative safety of the US Dollar and the US-denominated assets like Treasuries and mortgage-backed securities (MBS).

Last Monday and Tuesday interest rates moved sharply lower, with the 10-yr Note declining from 2.00% to touching 1.69%. MBSs also improved nicely but the gains were not in lockstep with the ultra-safe haven of the Treasury market. Meaning, when the world is highly uncertain, Treasury rates improve faster and further than home loan rates.

The longer this war continues the longer we should expect rates to remain near or lower than current levels as the situation puts a bid or support under the bond market.

2) Fed Chair Powell Testifies Before Congress
Hump Day (Wednesday) was bad for bonds/rates which gave up half a sizable portion of their multi-day rate improvements. The main catalyst was Fed Chair Powell, who provided his semi-annual testimony before Congress.

"Reducing our balance sheet will commence after the process of raising interest rates has begun and will proceed in a predictable manner primarily through adjustments to reinvestments." Fed Chair Jerome Powell prepared testimony on 3/2/22.

This line reiterates the Fed's desire to remove MBSs from their balance sheet. The Fed currently has $2.7T of MBSs on its books. If the economy remains strong and can absorb multiple Fed rate hikes, then the Fed will try to become a seller of MBSs. The MBS market didn't like these words despite all the uncertainty in Ukraine and home loan rates shot higher in response.

"The near-term effects on the U.S. economy of the invasion of Ukraine, the ongoing war, the sanctions, and of events to come, remain highly uncertain. Making appropriate monetary policy in this environment requires a recognition that the economy evolves in unexpected ways. We will need to be nimble in responding to incoming data and the evolving outlook."
Here, the Fed is telling us the uncertainty in Ukraine could lead to fewer rate hikes. Stocks liked it and soared higher, at the expense of bonds and rates.

Lastly, the Fed essentially told Congress that it expects a .25% hike in a couple of weeks. This removed the uncertainty that the Fed may go with a .50% hike. Stocks liked this and bonds did not.

3) Soaring Oil Prices
Oil touched $116 a barrel on Thursday. If there was ever a time to have high prices "transitory", let's all hope this dramatic increase in oil prices proves to be short-lived. High energy prices are an economic killer. It is already weighing on consumer sentiment, and should it continue, it will weigh on consumer spending, which makes up two-thirds of our economic growth.

The Federal Reserve will be factoring in the high oil price and its economic impact as they consider rate hikes and ultimately shrinking their balance sheet.

Fed rate hikes are designed to slow demand and thus lower prices. If the consumer retreats on their own due to higher energy prices, the Fed may not be able to hike as aggressively as they intended when the year began.



Bottom line:
This new Russian/Ukraine war changes everything. If you are considering a refinance or purchase transaction, now is the time when there is a lot of uncertainty. Upon better days ahead, we should expect somewhat higher rates.

Looking Ahead
Almost all economic reports take a back seat to the elephant in the room, Russia/Ukraine. If this story gets worse, we should expect rates to improve again. The opposite is true.
We will get an inflation reading by way of the Consumer Price Index and we will see how consumers feel about Consumer Sentiment. Expect volatility with stocks, bonds, and rates to continue.
Mortgage Market Guide Candlestick Chart
Mortgage-backed security (MBS) prices are what determine home loan rates. The chart below is a 1-yr view of the Fannie Mae 30-year 3.0% coupon, where currently closed loans are being packaged. As prices go higher, rates move lower and vice versa.

MBS prices are trying to hold above par or $100. If prices remain above this floor, rates will remain at or near current levels. However, if prices fall beneath $100, despite all the uncertainty in Ukraine, home loan rates will tick higher.

Note, the wild price swings over the past few days highlights how much rates have moved up and down this week alone.
Chart: Fannie Mae 30-Year 3.0% Coupon
(Friday, March 4, 2022)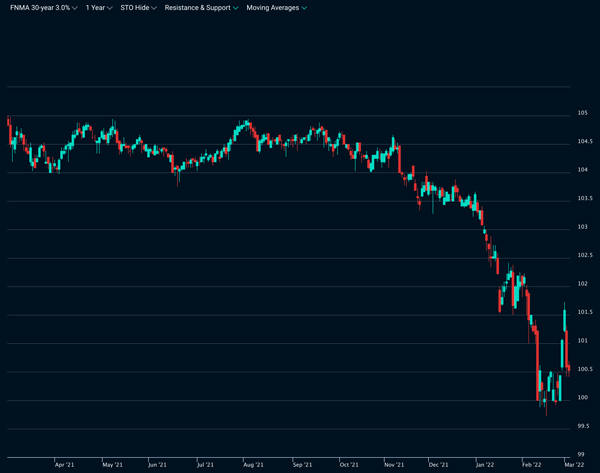 Economic Calendar for the Week of March 7 - 11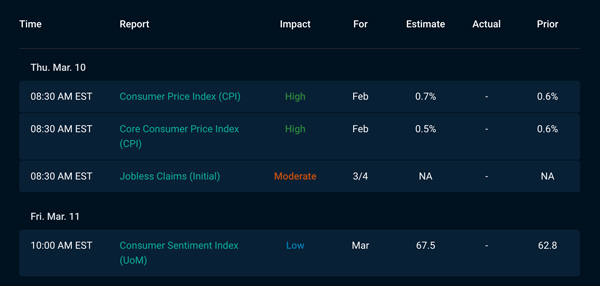 Copyright © 2022 Penner Group Properties, All rights reserved.
You are receiving this email because you opted in via our website.

Our mailing address is:
Penner Group Properties
16037 SW Boones Ferry Road Ste 150
Tigard, OR 97224